Extract-All Fume Extractors
Featured Product from Air Impurities Removal Systems, Inc.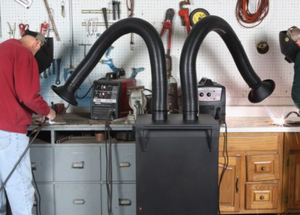 Extract-All® Fume Extractors offer the most versatile, user-friendly design capable of capturing harmful fumes, dust, vapors, and smoke from a wide range of industrial applications. All of our mobile & portable fume extractors can accommodate a variety of filter media including, HEPA, ULPA, Medical Grade Filter Media, and a variety of adsorbent chemical filter media such as Activated Carbon. Our multi-stage filtration and source-capture options will provide the ideal system to improve the air quality in your facility by effectively removing airborne contaminants before they enter the operator's breathing zone.
Fume Extractors work in these applications
Laser Engraving
Laser Printing
Welding
Salon
Art Conservation
Brazing
Pharmaceutics
Soldering
Powder Mixing
and many more!