Explosion-Proof Air Conditioners Case Study
Featured Product from Air Innovations, Inc.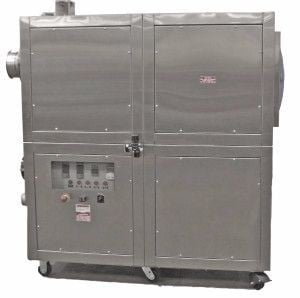 The Challenge:
Air Innovations' Cleanroom Systems division was asked to design a Class I, Div I Enclosure. This form of environmental control system (ECU) is used to control the process air needed for the solvent-based coating of pharmaceutical tablets. The final environmental control solution needed to dehumidify the ambient air in a single pass (versus re-circulating air) – which is a critical parameter for the fluid-bed coating process – in an explosion-proof environment.
The Solution:
We configured the explosion-proof air conditioner to provide once-thru air to a single LDCS-PRO coater. The explosion-proof HVAC system was designed for near-continuous operation to ensure a non-condensing environment and to provide thermal stability.
The electrical panel, humidifier, and compressor are encased inside the pressurized cavity of the ECU to protect against sparks, to keep out volatile gases, and to remain isolated from other compartments.
Key Specifications:
Ambient inlet conditions range from 21°C to 24°C temperature and from -12°C to 16.7° C dew point
Design output conditions maintained at 22°C ±2°C temperature and at 10°C ±1°C dew point
Ambient change rates over a 1-hour period are no more than 1°C temperature and no more than 5% RH
Electrical and mechanical sections are pressurized with purge gas via a Cyclops system, with max external static pressure 0.5"
System airflow 750-1000 CFM
The fan is an explosion-proof direct-drive impeller wheel
The heater is a 5.0kW electric reheater, Class 1 Division 1, Groups C&D, T2D (max 215?C)
UL approved
The Result:
All design specifications and parameters were met, incl. Class 1, Division 1 requirements (for the fluid-bed coating applications)