Sterile cabinets provide cleanroom environments
Featured Product from Air Innovations, Inc.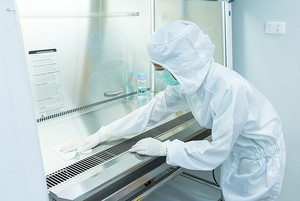 Cleanrooms are needed in several industries and laboratories for a variety of reasons. For example, medical or pharmaceutical products must be devoid of harmful pathogens that may increase the risk of infections for patients; semiconductor circuits can be made inoperable by submicron-size contaminate particles introduced during manufacturing; certain biological or chemical products may require the precise control of temperature, humidity or air pressure to ensure proper and consistent chemical reactions; and sensitive optical and electronic equipment may require testing and calibration in highly controlled thermal environments. These and other applications require the use of cleanrooms or sterile environments.
Typical cleanrooms require a substantial capital investment in equipment and facilities for air filtration and air conditioning in order to control airborne particles, such as dust, microbes, aerosols or chemical vapors, or to ensure proper temperature, humidity and air pressure. Under certain circumstances, however, budget, time, and space constraints make it impossible to construct a cleanroom, and it is necessary to have a rapidly deployable or portable cleanroom solution.
This article reviews requirements for standard cleanrooms and highlights how some of the most stringent cleanroom requirements can be satisfied on demand with the Air Innovations SSC 4500 Sterile Storage Cabinet system.