Pressure Switches and Vacuum Switches
Featured Product from Air Logic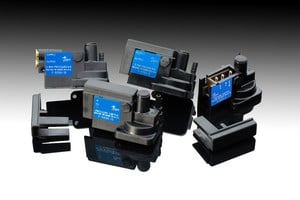 The snap-action electrical switch provides a positive and reliable response. The switch operation is based on the actuation of a precision snap-acting switch acting against a diaphragm. The extremely short stroke and small volume permit fast response making it ideal for precise pressure and vacuum sensing.
The switches are single pole, double throw for normally open, normally closed, and common terminals which are available from 0.1 to 25 AMP; 15 AMP is standard. For low current applications, gold contact and solid state switches are available.
Maximum supply pressure is 100 PSI or 29.9" Hg. Adjustment ranges 0.5 to 100 PSI or 1 to 28" Hg. Special actuating and releasing settings are available upon request. Four mounting styles are available: flush mount, manifold mount, panel mount, and pipe thread.
The 4100 Series Miniature Switch is designed for low pressure or low level vacuum applications. The 5100 Series Subminiature Switch, is designed for high pressure or high level vacuum applications. The 5300 Series Low Differential Switch is designed for a low difference between the "ON" and "OFF" actuating and releasing set points. The 5500 Series Solid State Switch is a direct interface with solid state electrical circuits.