R-6000 PR-6000 Series Manifold Mounted
Featured Product from Air Logic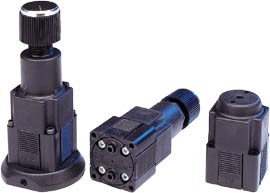 The Manifold Mounted Precision Pressure Regulator are designed to mount directly on pneumatic circuit boards or manifold subplates. The port connections for the supply and output are located on the base of the manifold mounted series regulator. Two recessed Buna-N o-rings are supplied for sealing the regulator to the manifold.
The Manifold Mounted Regulators are available in two models: The Adjustable Precision Regulator has a 20-turn adjustment range from .5 to 100 PSI. Maximum supply is 150 PSI. Four adjustment range are available: 10 PSI, 30 PSI, 60 PSI and 100 PSI.
The Adjustable Regulator is furnished with an adjustment knob and is also available with an extended 1/4" shaft to accept an adjusting knob or furnished with an exposed screwdriver adjustment by which the pressure range can be adjusted.
The Preset Precision Pressure Regulator is designed to produce a precise output pressure that is preset at the factory, 0.5 to 40 PSI using a 100 PSI supply. The preset regulator is available with a recessed allen wrench adjustment or a removable adjustment knob.
The Unique Modular Dovetail design allows the regulator to be used individually or assembled into a modular combination of pneumatic components.
The Dovetail Threaded Port is available with 10-32 UNF, 1/8-27 NPT or 1/4-18 NPT threads. The 1/8" and 1/4" NPT ports contain a brass hoop ring insert designed for added strength.
The Dovetail Connector and Union allow various combinations of pneumatic components to be joined together. The modular accessories include a pressure gauge and a modular system.
The Dovetail Gauge Port is available with 1/8-27 NPT or 1/4-18 NPT threads. The Dovetail Slide has the word GAUGE molded into the slide.
The Blank Dovetail Slides are supplied with the regulator when the accessory outputs are not in use. Four blank dovetail slides are standard on the regulator. The supply side is marked IN, and the output side is marked OUT.
Patent Numbers 5,217,260 & 5,261,477.
FEATURES
Manifold Mount
Modular Dovetail Design
Excellent Repeatability
Specifications
Adjustment Range:
-Adjustment Model, 0.5 to 100 PSI
-Preset Model, 0.5 to 40 PSI
Maximum Supply: 150 PSI
Operating Temperature: 40º to 150ºF (4º to 66ºC)
Recommended Filtration: 5 Micron
Effect of Supply Variation:
Within .1 PSI output change with 10 PSI supply change
Flow Regulator: Maximum flow 5 SCFM with 100 PSI
supply
Repeatability:
Within .1 PSI when the supply pressure is turned
off and on.
Drift: At 75ºF. 0.1 PSI total drift
Automatic Relief
Supply Consumption:
Within 400 cc/m at 100 PSI supply, with a deadend output