R-7000 Series Precision Pressure Regulator
Featured Product from Air Logic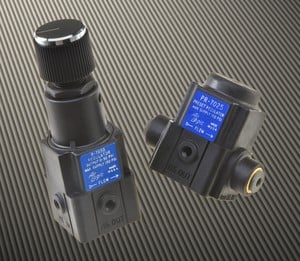 The Modular Subminiature Precision Pressure Regulator is designed for precise regulation of pressure. It is ideal for instrumentation and industrial applications. The pressure regulator has a 20 turn adjustment range from 0.5 to 100 PSI. Maximum supply is 150 PSI. Four adjustment ranges are available: 10 PSI, 30 PSI, 60 PSI and 100 PSI. The standard device is furnished with an adjustment knob and is also available with an extended 1/4" shaft to accept an adjustment knob or furnished with an exposed screwdriver adjustment by which the pressure range can be adjusted.
FEATURES
Modular Dovetail Design
Excellent Repeatability
Miniature Size
Non-Rising Stem
Low Cost
The Unique Modular Dovetail design allows the regulator to be used individually or assembled into a modular combination of pneumatic components.
The Dovetail Threaded Port is available with 10-32 UNF, 1/8-27 NPT, 1/4-18 NPT, or M5 threads. The 1/8" NPT and 1/4" NPT ports contain a brass hoop ring insert designed for added strength. Push to Connect dovetails are also available.
The Dovetail Connector and Union allow various combinations of pneumatic components to be joined together. The modular accessories include a pressure gauge and a modular manifold system.
The Dovetail Connector is a modular connecting Dovetail Slide with no hole joining two units together with no common air supply.
The Dovetail Union is a modular Dovetail Slide with a thru hole joining two units together with a common air supply.
The Dovetail Gauge Port is available with 1/8-27 NPT or 1/4-18 NPT threads. The dovetail slide has the word GAUGE molded into the slide.
The Blank Dovetail Slides are supplied with the regulator when the accessory outputs are not in use.
Patent numbers 5,217,260 & 5,261,447.
Specifications
Adjustment Range: 0.5 to 100 PSI
Maximum Supply: 150 PSI
Operating Temperature: 40 degrees to 150 degrees F (4 degrees to 66 degrees C)
Recommended Filtration: 5 Micron
Effect of Supply Variation: Within .1 PSI output change with 10 PSI supply change
Flow Regulator: Maximum flow 5 SCFM with 100 PSI supply
Repeatability: Within .1 PSI when the supply pressure is turned off and on
Drift: At 75 degrees F. 0.1 PSI total drift
Automatic Relief
Supply Consumption: Within 400 cc/m at 100 PSI supply, with a deadend output
Materials:
Housing: Glass filled Celcon
Adjustment Screw: Carbon Filled Nylon
Retaining Ring: Carbon Spring Steel
Stem Assembly: Celcon
Diaphragm: Buna N, Polyurethane
Diaphragm Assembly: Celcon
Springs: Stainless Steel, non-corrosive music wire coated with E coat Epoxy
O-Rings: Buna N, Silicone Nitrile
Valve Seat: PVC
Filter: Stainless Steel 304, Micron size 380
Manifold Mount Screws: Zinc