Subminiature Pressure Gauges
Featured Product from Air Logic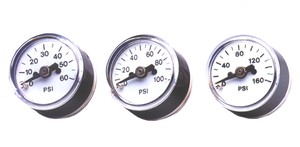 The inside case of the gauge is polished brass; the one-piece lens cover is polycarbonate. The gauge has a brass geared movement with a "C" shape copper-alloy bourdon tube. The center back connection is 1/8-27 NPT male threads; the threads are brass. The accuracy of the gauge is 2% in the mid-third of the pressure range.
Features
Specifications
Accuracy: 2% mid-third of scale
Maximum Supply: 50% over the gauges pressure range
Operating Temperature: 0 to 160 degrees F. (-17.8 degrees to 71 degrees C.)
Pressure Range:
G-030: 0-30 PSI
G-060: 0-60 PSI
G-100: 0-100 PSI
G-160: 0-160 PSI
Recommended Filtration: 5 micron
Materials
Housing: Inside case is polished brass
Lens Cover: one piece polycarbonate
Back Connection: Brass
Geared Movement: Brass
Bourdon Tube: "C" shape copper-alloy
Port Connections
1/8-27 NPT male threads
Mounting
Stem Mounted (center back)
Order by Model Number.