Biogas Upgrading Membrane Separators
Featured Product from Air Products PRISM Membranes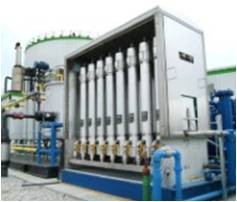 Air Products now offers six different PRISM® Membrane Separators for biogas applications. The newest PB4050 and PB4030 membrane separators are designed for lower biogas processing capacity than Air Products' legacy units. This makes the new products ideally suited for small scale and micro anaerobic digester applications, which constitute the largest number of digesters, globally. PRISM Membrane Separator contain polymeric hollow fibers and utilize selective permeation to separate raw biogas into two streams: enriched biomethane and enriched carbon dioxide.
The PRISM biogas membrane separators are offered with both high flux and high selectivity fiber types. This combination of membrane separator sizes and fiber types provides engineers unparalleled flexibility to optimize system performance in accordance with customer specifications. These new products demonstrates a commitment to meeting the needs of the global biogas market.
Air Products Prism Membranes distributes Prism PB Biogas membrane separators exclusively through OEM partner compaines and is currently seeking qualified companies to incorporate the PB separators into biomethane upgrading systems. Contact Air Products for more information.