Hydrogen Upgrading with Prism Membranes
Featured Product from Air Products PRISM Membranes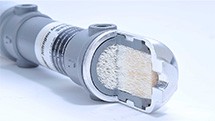 Watch>>>Hydrogen Upgrading with Prism Membranes
Applications & Industries
PRISM Membrane separators generate gas onsite in the following industries: aerospace, oil and gas, food and beverage, marine, and many others. Primary applications include nitrogen generation, air dehydration, hydrogen recovery, biogas upgrading, and the generation of oxygen enriched air.
How Membrane Separators Work
Each membrane separator contains thousands of asymmetric hollow fibers that act as a molecular filter. When high-pressure gas mixtures enter the separator, the gas components divide as a result of selective permeation. Fast gases (such as oxygen) permeate easily through the membrane wall and exit the side port. Slow gases (such as nitrogen) have a difficult time passing through the membrane wall and travel the bore of the fiber exiting through the port at the end of the shell.
Who We Are
The PRISM Membranes Business unit develops, manufactures, and sells gas membrane separators. This group pioneered gas membrane separation for commercial use with early projects commissioned in 1977 and full-scale commercialization in 1979. The one-of-a-kind membrane manufacturing plant is located in Saint Louis, Missouri with offices and sales support located globally including Norway (www.airproducts.no) and Permea China Limited (www.permea.com.cn).
How We Do Business
Air Products PRISM Membranes is the original equipment manufacturer providing gas separators to a global network of preferred partner distributors. These value-added-resellers incorporate separators in their system designs.
Air Products (NYSE:APD) is a world-leading Industrial Gases company celebrating 75 years of operation. The company's core Industrial Gases business provides atmospheric and process gases and related equipment to manufacturing markets, including refining and petrochemical, metals, electronics, and food and beverage. Air Products is also the world's leading supplier of liquefied natural gas process technology and equipment. The company's Materials Technologies business serves the semiconductor, polyurethanes, cleaning and coatings, and adhesives industries.