New N3 Nitrogen Separators Save Energy and Space
Featured Product from Air Products PRISM Membranes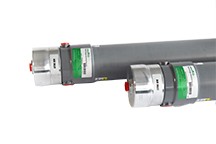 Air Products PRISM N3 Membrane Separators deliver exceptional value and benefits to OEM customers and end users. A newly developed fiber technology delivers increased nitrogen productivity.
Benefits:
Reduced Cost: N3 fibers produce more nitrogen, so systems can be designed with fewer separators, reducing footprint and capital expenditure. High nitrogen recovery lowers operational power costs.
Design Flexibility: Design engineers have increased flexibility in fabricating nitrogen membrane systems to meet specific needs. Use less compression power to build an energy efficient system. Or, use fewer separators to build compact systems when
space is limited.
Reliable Operation: PRISM Membrane Separators are field proven in the most demanding applications and environments like offshore platforms and mining operations. The high quality membrane fiber offers superior resistance to common feed stream contaminants.