Zero Purge Heated Regenerative Desiccant Dryers
Product Announcement from Aircel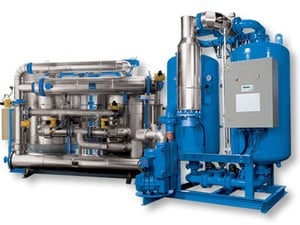 The Aircel HRS-L (600 - 10,000 scfm) utilize externally heated atmospheric air for regeneration of the desiccant bed. This eliminates the use of compressed purge air for regeneration resulting in an overall reduction in the cost of operation. In the HRS-L the cool-down of the regenerated bed is assisted by a water cooled heat exchanger that further reduces compressed air usage. The result, only a small fraction of process air is consumed during depressurization of the offline tower. This amounts to an average process air use of < .05% of the rated capacity of the dryer.
Learn more about the Aircel HRS-L and how it works...

___________________________________________________

About Aircel - Compressed Air & Gas Purification for Every Application
Your unique environment and applications are not standard to fit all, and your compressed air drying solutions shouldn't be either. Aircel engineers the compressed air drying technology your environment needs, while keeping your footprint, energy costs, and maintenance top of mind. Aircel has the experience, engineering and manufacturing capabilities to continuously develop dryers with the highest quality performance.

Learn more about Aircel...
---