Downdraft Tables
Product Announcement from Airflow Systems, Inc.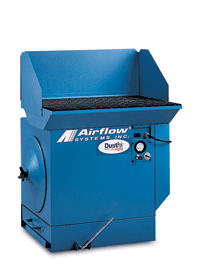 The Airflow Systems line of downdraft tables brings source capture collection efficiency to industrial applications requiring larger, open collection areas and work surfaces.
The Airflow Systems downdraft table combines the work surface with the particulate collection area. The downdraft design draws contaminants away from the worker's breathing zone without hindering the worker's movement or productivity.
Airflow Systems offers a selection of portable downdraft tables and stationary downdraft tables for most any type of grinding, sanding, and welding application.
See the full line of Downdraft Tables from Airflow Systems, Inc.(.pdf download)
---