Diesel Flow Meters; SmartFlex™ single/dual-chamber
Featured Product from Airmar Technology Corporation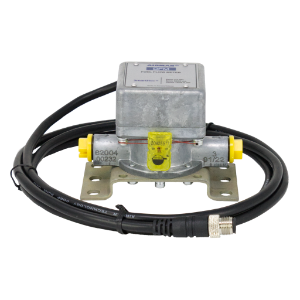 AIRMAR is pleased to introduce the new SmartFlex™ single- and dual-chamber Diesel Flow Meters, powerful data reporting devices designed for the fuel consumption measurement of engine systems with flow rate requirements up to 4,000 LPH. The new DFMs are for use with Airmar's SmartFlex and SmartBoat® system where they are configured using the SmartFlex View interface. The derived data is then available via CAN/NMEA 2000® for system-wide monitoring and control, including the configuration of alerts, automation and more.
The data delivered by SmartFlex Diesel Flow Meters includes instant and total fuel consumption, hourly fuel consumption in forward and return line, total fuel consumption in idling and optimal mode of engine operation, and total fuel consumption in overload and negative mode of flow meter operation (return exceeds supply).
SmartFlex Diesel Flow Meters are available in both single- and dual-chamber models. Dual-chamber flow meters calculate a differential measurement of fuel consumption by utilizing two measuring chambers for supply and return fuel lines. The flow meter measures fuel consumption in each line and computes the difference between supply and return. Single-chamber flow meters can be synched with other single-chamber DFMs (feed and return) for calculated fuel burn/consumption data. Both models are available with alloy or brass housings, threaded or flanged connections, and with or without LCD window.
SmartFlex Diesel Flow Meters have the special ability of continuing to register data to internal memory in the absence of an external power source, such as from the on-board network. When external power is restored, all accumulated data will be transferred to the on-board monitoring terminal. Other convenient features of SmartFlex DFMs include easy installation and quick set-up with SmartFlex View, automatic temperature compensation, non-contact measurement, and digital plug and play design with no special wiring needed.

For model specific details, please visit our distributors Gemeco Marine Accessories Specialists (North America, Australia, New Zealand, South America) or Airmar EMEA (Europe, Middle East, Africa).