Sorbweb Plus Secondary Oil Containment
Featured Product from Albarrie Canada Limited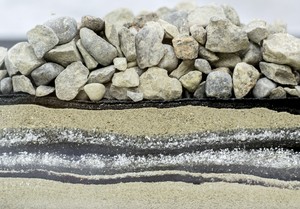 Secondary Containment For The Future.
Albarrie's SorbWeb™Plus secondary oil containment uses patented mineral oil reactive self-sealing smart fabric technology. SorbWeb™Plus is virtually maintenance-free. There is no water collection in this system. It offers significant cost savings on both installation and operation.
The SorbWeb™ Plus secondary oil containment system provides continuous protection against oil spills and leaks around oil-filled equipment. It is a multi-layered, passive containment system using Albarrie's innovative oil-reactive geotextile fabric. The innovative fabric and containment design is a leap forward in proactive protection of the environment around oil-filled equipment.
How It Works
The SorbWeb™ Plus secondary oil containment system is designed to allow groundwater to pass freely through its smart, oil-reactive geotextile fabric known as Oilmat. In its passive state, the system allows water to move freely through the Oilmat without accumulating. However, when hydrocarbons from mineral oil contact the Oilmat, they undergo a physical change. This chemical change congeals and seals the oil inside the fabric, turning it into an impermeable membrane to protect the environment.
Applications
Substation Transformers of all sizes, particularly large-size equipment

Unstaffed substations and environmentally sensitive areas where an oil spill could cause significant damage

New or retrofitted substations with existing concrete containments

Below or above grade applications

Locations where substation real estate is limited and drivable access with maintenance vehicles is a must

Bring us your challenge and we will work together to develop the right solution.
Benefits & Features
Effective 24/7 spill and leak protection -

proven effective by third-party lab testing and numerous installations in North America

Virtually Maintenance Free

- the smart geotextile traps and locks in hydrocarbons on contact, allowing Water to pass freely

Manage Chronic Leaks

- includes Albarrie's Super Absorbent Membrane (SAM) to absorb and manage chronic leaks.

Allows Water to pass through

- the

Oilmat

enables Water to pass through the material but seals and congeals mineral oil on contact.

Flexible Design

- easily configures around existing infrastructure.

Customized

- designed for your specific application by certified professional engineers. Custom sizing and volume capacity depend on your requirements. The secondary oil containment system can be extended or modified up to and during installation.

Easy to Install

- installed without interruption of service in either brownfield or greenfield applications in three days.

Polymers Stay in Place

- Produced with a continuous stream of oil immobilizing polymers encapsulated between two nonwoven geotextiles means there is no shifting of the polymer during handling, cutting or installation.

Fully Accessible by Vehicles

- designed to handle maintenance vehicle loads.

Addresses all soil types -

can be installed in any soil condition. It is not intrusive to natural drainage.

Budget-Friendly -

compared to traditional and alternative secondary oil containment systems,

SorbWeb Plus

™ is on average a minimum of 30% less expensive to install and maintain.

Environmentally Compliant

- Meets EPA requirements of secondary oil containment for SPCC 40 CFR 112.7 and IEEE Std. 980.
Properties
Oilmat

is manufactured from 100% virgin black fiber with excellent chemical resistance.

Highest polymer loading in the industry with a minimum 2500 g/m² or 73.7 oz/yd².

1 sq. yd. (1m²) of the SAM absorbent layer absorbs up to 3.5 gallons (or 15 liters) of mineral oil.

Containment can be designed to hold 110% oil volume in the oil-filled equipment.
Documentation
Albarrie stamps all IFC drawings. The final reports include stamped drawings, detailed volumetric containment, step-by-step documentation of the installation and an emergency preparedness guide.