Antimicrobial Wheels
Product Announcement from Albion Casters and Wheels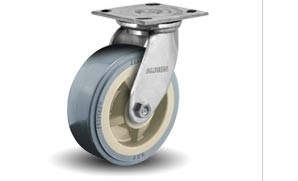 For applications where microbial growth must be prevented, Albion suggests Prevenz wheels. They suppress the growth of microbes and helps control bacteria, molds, mildew, fungi and odors.
The antimicrobial compound is an integral part of the wheel material, not a surface coating, so the protection provided by Prevenz wheels lasts the life of the product. These wheels are available in a variety of wheel diameters from 3" to 10" and rated for loads from 300 to 2,500 pounds.
They're also available in solid polyurethane and with polyurethane treads molded onto polypropylene and cast iron cores. This wheel is a preferred choice for scientific and research, medical and healthcare, pharmaceutical, chemical, food processing and clean room environments.
---