Pneumatic Casters
Product Announcement from Albion Casters and Wheels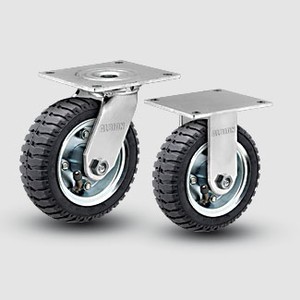 12 Series Medium Duty Cold Formed with hardened double ball race. Load capacities up to 1250 lbs.. These casters are recommended for medium to medium heavy duty applications that require a larger top plate or bolt hole template.
TYPICAL APPLICATIONS: Bakery equipment, Freight dollies, Distribution cages & carts, Garment racks, Meat processing equipment, Gymnasium equipment.
FEATURES: Top Plate & Yoke Base: Cold formed from 1/4" steel plate. Yoke base is notched for factory or field-installable 4-position swivel lock. Swivel Section: Smooth formed, hardened double ball bearing raceways minimize ball indentation and wear. Legs:1/4" steel, formed to increase strength and welded to yoke base. King Bolt: 5/8" diameter orbitally spun steel rivet. Axle: 1/2" diameter hollow axle comes complete with lock nut for straight roller and ball bearings. Axle is solid for Delrin and Oilex bearing. Wheel Seals - Nylon seal retaining/thrust washers. Lubrication: Zerk fitting in swivel section and in recessed head of hollow axle on straight roller and ball bearing wheels. Finish: zinc plated. NSF Consult factory. Alternate or custom caster configurations available.
---