Phosphate Free Cleaner for Use in Labware
Product Announcement from Alconox, Inc.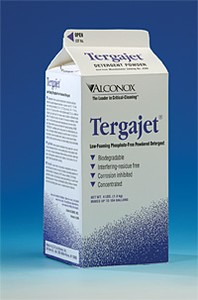 Tergajet - Low Foaming Phosphate Free Powdered Detergent: Nonionic, low foaming phosphate free powdered enzyme cleaner for use in labware washers, manual and ultrasonic cleaning. Corrosion inhibited formula recommended for glassware, metals, plastic, ceramic, porcelain, rubber and fiberglass. Free rinsing for reliable results and no interfering residues. Passes inhibitory residue test Dilute 1:200. pH 11.5
Concentrated to save you money
Biodegradable and readily disposable
Phosphate-free, biodegradable and readily disposable
Low foaming heavy duty detergent for high performance results
Free rinsing to give you reliable results and no interfering residues
Ideal for under-counter and floor standing lab washing machines
Used to clean:
Water testing labware cleaning, phosphate sensitive lab equipment cleaning, hospital instruments, optical components, pharmaceutical apparatus, cosmetics manufacturing equipment, tissue culture ware, plate glass, metal castings, forgings and stampings, industrial parts, animal cages, electronic components, tanks and reactors USDA food contact surface cleaning compliant. FDA certified.
Used to remove:
Soil, radioisotopes, radioactivity, organics, grit, grime, slime, grease, tars, resins, fats, oils, blood, tissue, particulates, inorganic residues, chemical and solvents.
Surfaces cleaned:
Recommended for glass, stainless steel, PTFE, ceramic, cement and alkali resistant plastics and metals. Tergajet is inhibited for Aluminum. Corrosion testing is advisable.
Cleaning method:
Laboratory warewashers, dishwashers, washer-sterilizers, washersanitizers, cart washers, spray washers, electrocleaning, ultrasonic cleaners, clean-inplace and manual cleaning if proper skin and eye protection is used.
---