Carbon Steel A105 & A350-LF2-Carbon Steel Supplier
Product Announcement from All Metals & Forge Group, LLC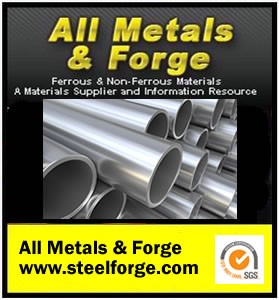 A105, A350-LF2, 1018, 1025, 1040/1045 Carbon Steel from All Metals & Forge, an ISO-9001:2000 certified manufacturer of carbon steels in round, tube, plate, flange, billet, seamless pipe, rolled rings and open-die forgings. Available in various configurations. Full-service center, laser cutting, rough machining, and material testing available.
Carbon Steel is a malleable, iron-based metal containing carbon, small amounts of manganese, and other elements to make the material useful for many different applications. Carbon steels are the base metals widely used in manufacturing today around the world in nearly every industry, including aerospace, aircraft, automotive, chemical, and defense.
All Metals & Forge provides Carbon Steel, as well as Alloy Steel, Aluminum, Cobalt, Magnesium, Molybdenum, Nickel, Stainless, Superalloy, Titanium, and Tool Steel in all mill forms including sheet, strip, plate, foil, round bar, square bar, flat bar, hex bar, tube, pipe and wire. Please see their complete list of alloys on their website.
Quick Links:
Questions? Email us your application questions or pricing inquiries, we pride ourselves on our quick response...
REQUEST A QUOTATION...
Additional capabilities and products:
Email us your application questions or pricing inquiries...
About All Metals & Forge:
All Metals & Forge, LLC is a unique combination of a steel service center, forge facility, custom melt operation, custom bar producer, value-added service provider and an information resource for its customers. All Metals & Forge is an ISO9001:2000/AS9100 and EN9100 registered company.
Warehouse operations supplies alloy steels, aluminum alloys, carbon steels, cobalt alloys, magnesium alloys, molybdenum alloys (Moly), nickel alloys, stainless steels, stainless PH grades, super alloys, tantalum alloys, titanium alloys, tool steels, and tungsten alloys in all mill forms, as well as custom hand-rolled bars not commercially available.
Forging operations provides contoured rolled rings and seamless rolled rings in sizes up to 160"/4050mm OD. Please see our chart for available forging materials. Other forged shapes include discs, hubs, blocks, shafts, flanges, sleeves, cylinders, flats, hexes, rounds, plate, and custom shapes.
Value-added services includes cold and hot forming, heat treating, cutting, machining, extrusions, and rolling and welding operations.
Custom operations includes custom hand-rolled bars in many materials and sizes in round bar, flat bar, square bar, hex bar and custom shapes. Custom melting can produce a custom chemistry, a controlled chemistry, an out-of-date or obsolete alloy, or a vacuum melt of a common grade, in heat lots of 250 pounds or more, and provide ingots or mill forms.
---