Forging Capabilities, Specialty Materials & Alloys
Product Announcement from All Metals & Forge Group, LLC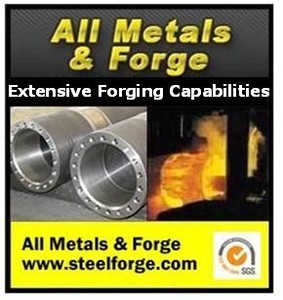 All Metals & Forge Group is a predominate force in specialty materials Forging, including: open die forgings, seamless rolled rings, and contoured rolled rings. Forging shapes include discs, hubs, blocks, shafts (including step shafts or with flanges), sleeves, cylinders, flats, hexes, rounds, plate, as well as custom shapes (contact us...)
Our high quality forgings can be produced as finished size, finished size rough machined, forged size, forged size rough machined, as forged size, or as forged size with allowance to finish to your finish size. Seamless rolled rings and contoured rings are produced to save on material and machining costs.
View the extensive forging materials capabilities and click to learn more why we have become the "Relied upon source" for Major OEMs as well as specialty products for small and mediun companies.
Please see the following chart for size capabilities in various metal alloys. Materials that we forge include:carbon steel, alloy steel, tool steel, special grades, stainless steel (including PH grades), titanium, aluminum, magnesium, copper, nickel, cobalt, high temperature, super alloys and special alloys.
All Metals & Forge Group can now provide custom hand rolled bars in a variety of sizes and shapes from tool steels, nickel alloys, high temperature alloys, high speed steels, alloy steels, stainless steels, titanium, cobalt alloys, manganese steels, and super alloys.
Custom Melting and Designer Alloys™
All Metals & Forge Group can now supply Air or Vacuum Melted Designer Alloys™ in the below listed material families, in quantities as small as 250 lbs. (120 kgs.)
COLD & HOT FORMING, HEAT TREATING, CUTTING, MACHINING, EXTRUSIONS, ROLLING & WELDING, POLISHING
Alloy Steel
4000-6000: 4015 , 4017 , 4020 , 4023 , 4037 , 4085, 4112, 4115, 4120, 4125, 4127, 4130, 4135, 4140, 4142, 4145, 4150, 4155, 4160, 4215, 4320, 4335, 4340, 4615, 4620, 4630, 4640, 4720, 5150, 52100,
Alloy Steel Special Grades:
Aluminum:
Carbon Steel:
Copper Alloys:
Magnesium Alloys:
Nickel, Cobalt, Special Alloys:
Stainless Steel:
254 SMO, 2205 Super Duplex
Stainless Steel PH Grades:13-8MO, 15-5PH, 15-7MO, 17-4PH
Titanium Alloys:
Commercially Pure, CP Grade 1, CP Grade 2, CP Grade 3, CP Grade 4, CP Grade 7, CP Grade 11, CP Grade 12
4AL-3MO-1V, 4AL-4MN, 5AL-2.5SN, 6AL-2SN -4ZR-2MO, 6AL-2SN -4ZR-6MO, 6AL-4V, 6A1-6V-2SN, 7AL-4MO, 8AL-1MO-1V, 13.5V -11CR-3AL, Ti17,
Tool Steel:A2, A6, A10, D2, D3, D5, D6, H11, H12, H13, H21, H26, H43, M2, P20, S1, S5, S7, T1, W1, W2
About All Metals & Forging, LLC.
PARTNERING This industry trend is shaping the way All Metals & Forge does business today. We are developing closer customer relationships and taking on a larger role in the total supply and manufacturing chain. A closer connection with our customers is key. Our ability to anticipate customer needs, willingness to become involved with their business, and ability to respond quickly and cost effectively has established All Metals & Forge as a premier vendor. Today we forge relationships that create AM&F Solutions®.
---