Specialty Steel Warehouse Products
Product Announcement from All Metals & Forge Group, LLC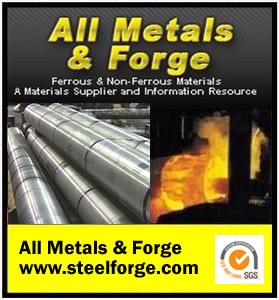 All Metals & Forge, an ISO-9001:2000/AS9100B/EN9100B certified supplier and manufacturer, offers a full line of specialty steels, stainless steels, nickel, cobalt, titanium, aluminum, magnesium, tungsten, molybdenum, tool steels, alloy and carbon steels in mill forms, forgings and rolled seamless rings. Even many of the more hard-to-find specialty steels are available in either starting stock or pre-cut shapes and specifications.
Thanks to a huge inventory, a custom forging company, and a resourceful sales team, All Metals & Forge is at the forefront of the specialty steel supply industry. They cater to companies all over the world in the chemical, defense, oil, aerospace, and aircraft industries and are able to meet even the most specialized orders for steel products and forging requirements.
All Metals & Forge is not just a leading supplier of specialty steel, it is also a valuable resource for all types of metallurgical information. The Information Resources section of the AM&F website includes a SteelLog Dictionary that on its own contains more metallurgical data than most specialty steel supply websites. But the 5,000 terms in the SteelLog Dictionary are just a fraction of the data offered in the Information Resources section; there are also AlloyInfo Reports, Ferrous/Non-Ferrous Materials Overviews, bi-monthly industry newsletters, and more.
When you need it...And can't get it...Design it! You Design it, All Metals will Melt it! Form it! And Ship it!
Quick Links:
Additional capbilities and products:
About All Metals & Forge:
All Metals & Forge, LLC is a unique combination of a steel service center, forge facility, custom melt operation, custom bar producer, value-added service provider and an information resource for its customers. Since 1994, All Metals & Forge is an ISO9001:2000/AS9100B and EN9100B certified company.
Warehouse operations supplies alloy steels, aluminum alloys, carbon steels, cobalt alloys, magnesium alloys, molybdenum alloys (Moly), nickel alloys, stainless steels, stainless PH grades, super alloys, tantalum alloys, titanium alloys, tool steels, and tungsten alloys in all mill forms, as well as custom hand-rolled bars not commercially available.
Forging operations provides contoured rolled rings and seamless rolled rings in sizes up to 160"/4050mm OD. Please see our chart for available forging materials. Other forged shapes include discs, hubs, blocks, shafts, flanges, sleeves, cylinders, flats, hexes, rounds, plate, and custom shapes.
Value-added services includes cold and hot forming, heat treating, cutting, machining, extrusions, and rolling and welding operations.
Custom operations includes custom hand-rolled bars in many materials and sizes in round bar, flat bar, square bar, hex bar and custom shapes. Custom melting can produce a custom chemistry, a controlled chemistry, an out-of-date or obsolete alloy, or a vacuum melt of a common grade, in heat lots of 250 pounds or more, and provide ingots or mill forms.
---