Titanium, Tungsten, Nickel Alloy our Specialty
Product Announcement from All Metals & Forge Group, LLC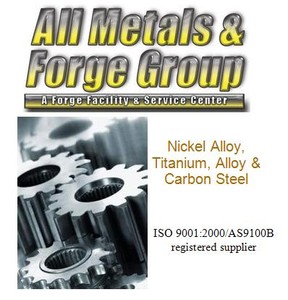 All Metals & Forge Group, LLC is ISO9001:2008 and AS/EN9100:2009C QMS certified since 1994 and a materials solutions provider of specialty steels and hard to find materials.
We focus on the Hard-to-find materials our clients need. All Metals has literally been called a hero to many manufacturing companies from all over the world for our responsiveness and finally giving the long sought out answers to their needs.
Email us your specific requirements - solutions are what we also specialize in and we won't be beat!
Forging Questions - email to speak to one of our sales engineers...
About All Metals & Forge Group, LLC: ISO 9001:2008 and AS/EN9100:2009C Certified
A Metals Service Center and Forge Facility
All Metals & Forge Group, LLC is a unique combination of a steel service center, forge facility, custom melt operation, custom bar producer, value-added service provider and an information resource for its customers. All Metals & Forge Group, LLC is an ISO9001:2008 and AS/EN9100:2009C registered and certified company
Forging operations provides contoured rolled rings and seamless rolled rings in sizes up to 160"/4050mm OD. Please see our chart for available forging materials. Other forged shapes include discs, hubs, blocks, shafts, flanges, sleeves, cylinders, flats, hexes, rounds, plate, and custom shapes.
Warehouse operations supplies alloy steels, aluminum alloys, carbon steels, cobalt alloys, magnesium alloys, molybdenum alloys (Moly), nickel alloys, stainless steels, stainless PH grades, super alloys, tantalum alloys, titanium alloys, tool steels, and tungsten alloys in all mill forms, as well as custom hand-rolled bars not commercially available.
Value-added services includes cold and hot forming, heat treating, cutting, machining, extrusions, and rolling and welding operations.
---