4.3 TFT Display 1000 nits luminance
Featured Product from All Shore Industries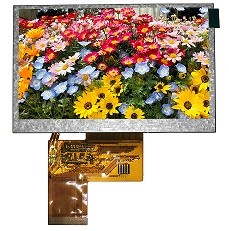 ASI Displays high brightness, high contrast 4.3" TFT is featured in it's list of TFT displays. The ASI-T-430FCKFN/A, with luminance of 1000 nits, featuring 12 white LEDs and a contrast ratio of 350:1. The ASI-T-430FCKFN/A features 480 (RGB) X 272 pixel resolution, providing a beautiful, crisp display. It is an ideal choice for displays in outdoor equipment. Also available with Resistive as well as Capacitive Touch Panels.
Applications include navigators, high resolution displays in industrial control panels, test and instrumentation, outdoor meters and indicators, data communication equipment, telecommunication equipment etc. The list goes on, any product demanding a high brightness and high contrast display.
Contact ASI Displays if you have an immediate requirement. The ASI-T-430FCKFN/A is available in production quantities now.