7.0" TFT Display - Superior Viewing
Featured Product from All Shore Industries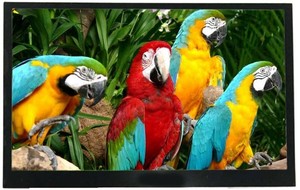 ASI Displays is featuring 7.0" TFT LCD module with superior viewing angles and high resolution. ASI-T-700SA4LN/D, with a high resolution of 1280 x 800 pixels; LVDS interface; luminance of 400 Nits; Contrast ratio of 800:1, view angle of 88/88/88/88 and operating temperature of -20 to + 70.
Applications include navigators, video systems, auto/aviation/marine equipment, POP, security equipment, Industrial equipment, outdoor intercom systems and control panels, medical equipment, drone controls etc.; any product requiring excellent viewing direction.
Please see data sheet for ASI-T-700SA4LN/D featuring LVDS interface. Available now in production quantities Contact ASI Displays if you have any requirement.
ASI Displays offers a variety of TFT Displays ranging in size from 1.44" to 12.1" to suit your specific applications. Resistive and capacitive touch screens with steel glass are available on many units. Select modules available with controller on board as well. Details for these as well as other TFT and Monochrome display modules (Character display modules or Graphic display modules) as well as standard OLED display modules may be viewed on our website, ASI Displays.
Need something 'slightly different'? Or perhaps you need to replace a discontinued model. We may be able to customize our standard, recommend an unlisted model, or build a custom module.
Please contact us if you have a near term display requirement or would like to discuss how All Shore Industries can support your future product developments.
Headquartered on Staten Island, New York, All Shore Industries is today a Global Electronics Manufacturing company offering high volume manufacturing of standard and custom electrical and mechanical products, along with full design support for customer specific applications.
Our three primary business groups are Contract Manufacturing, LCD Displays, and Power Supplies. Manufacturing is done at our ISO9001 certified facilities located in China and Taiwan. Engineering, program management, and all customer interface takes place from our NY headquarters.