8.01" panoramic Bar-type TFT modules
Featured Product from All Shore Industries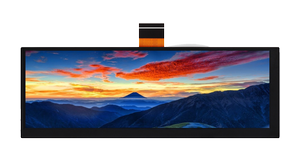 ASI Displays is featuring another panoramic Bar-type TFT module, 8.01" TFT. ASI-T-8011648A5LN/D, LVDS interface. Offering luminance of 500 Nits; Contrast ratio of 900:1, operating temperature of -20 to + 70. Offering exceptional "all view" angles of 85/85/85/85, supporting both landscape (1600 x 480 pixels) or portrait (480 x 1600 pixels) orientations.
Applications include any display that requires panoramic content view as well as full viewing angles with a bright screen; suitable for applications in Public transportation like bus or train, etc. as well as Retail applications such as POS, POP.
Please see data sheet for ASI-T-8011648A5LN/D, with LVDS interface. Available now in production quantities Contact ASI Displays if you have any requirement.
ASI Displays offers a variety of TFT Displays ranging in size from 1.44" to 12.1" to suit your specific applications. Resistive and capacitive touch screens with steel glass are available on many units. Select modules available with controller on board as well. Details for these as well as other TFT and Monochrome display modules (Character display modules or Graphic display modules) as well as standard OLED display modules may be viewed on our website, ASI Displays