OLED Display Modules
Featured Product from All Shore Industries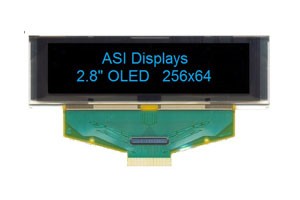 ASI Displays provides Character and Graphic OLED modules. OLEDs feature extremely high contrast (some >10,000:1)and very wide viewing angles . There is no additional backlight so the product is thinner, lighter and has a much lower power consumption than LCDs. OLEDs also feature much faster response time than LCD technology. Available in single color, dual color and full color modules.
Need something slightly different? All Shore may be able to customize our standard, recommend an unlisted model or build a custom model. Contact our application specialists to discuss.
Headquartered on Staten Island, New York, All Shore Industries is today a Global Electronics Manufacturing company offering high volume manufacturing of standard and custom electrical and mechanical products, along with full design support for customer specific applications.
Our three primary business groups are Contract Manufacturing, LCD Displays, and Power Supplies. Manufacturing is done at our ISO9001 certified facilities located in China and Taiwan. Engineering, program management, and all customer interface takes place from our NY headquarters.