Vehicle Displays for Aftermarket Electronics
Featured Product from All Shore Industries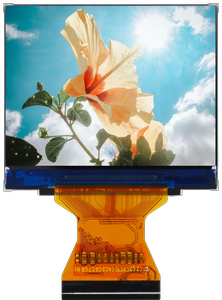 Vehicle Displays for Aftermarket Electronics
All Shore Industries provides a variety of displays that are suitable for the automotive, ATV and motorcycle aftermarkets. These displays can be used for dashboard stats, stereo system interfaces, dashcams and vehicle monitoring products and more. Whether you need a small 2" TFT color display or something larger, we offer an assortment of sizes with a range of interfaces, brightness and other specifications.
The following are a few of our popular aftermarket displays.
ASI-T-200EA6SRN/D - a 2.0 inch IPS all angle view TFT with a resolution of 320 x 240, SPI or RGB interface, contrast of 1,500 and a brightness of 620 Nits.
ASI-T-240DA10SMN/AQ - a 2.4 inch, high brightness TFT with a resolution of 240 x 320, SPI & MCU interface, IPS all-angle view and with a brightness of 1000 Nits; viewable in direct sunlight. It also features an extra wide operating temperature of -30 to +80C; perfect for extreme environmental applications.
ASI-T-430MA10FN/A – A 4.3 inch IPS TFT with a resolution of 800 x 480, IPS all angle view, RGB interface, with a brightness of 1000 Nits with a wide operating and storage temperature range.
ASI-T-700JA5MP6/W - a 7.0 inch TFT with MIPI interface, 1024 x 600 resolution, all-view, 500 nits brightness and capacitive touch panel.
In addition to displays for the vehicle aftermarket; All Shore Industries offers many displays suitable for Industrial, Medical, Communication as well as a variety of household appliances and consumer electronics.
Visit our website where you can browse and select the type of display most suitable for your product. Need help in selecting displays?
Contact us at sales@allshore.com and we will be glad to help.