ESD-Safe Nitrile Gloves - $7.14 for 100 Gloves!
Product Announcement from All-Spec Industries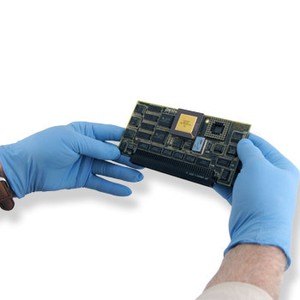 Only $7.14 for a box of 100 gloves!
Our All-Spec textured ESD-safe, nitrile gloves are:
Powder-free and puncture resistant
Resistivity 1010 ohms/sq.
9" length, 4 mil thick
Color: Blue
The soft ESD nitrile disposable gloves give drier, cooler, more comfortable wear due to unique modules. These gloves not only protect against static but they also reduce hand fatigue caused by elastometric stress and provide greater puncture resistance than natural rubber and vinyl disposable gloves. Free evaluation samples available -- for free samples e-mail our customer service department at sales@all-spec.com.
Available in size sizes...XS through 2XL.

---