ESD-Safe Workbenches from All-Spec
Product Announcement from All-Spec Industries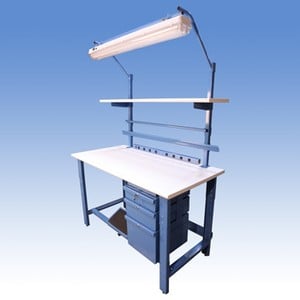 All-Spec Industries is now carrying its own line of ESD-safe and standard workbenches, which will provide a more affordable option when furnishing your workspace. These benches come in 15 sizes to choose from, ranging from 2' deep by 4' long to 3' deep by 10' long.
Built for structural integrity, the new All-Spec benches are made with steel legs and can hold up to 1,000lbs. In addition, the benches are easy to assemble and take only half an hour to set up.
All-Spec's durable and economical benches are also customizable with accessories such as drawers, footrests, bin box rails and more.
---