Machine Building & Automation Systems Made Easier
Product Announcement from Allen-Bradley / Rockwell Automation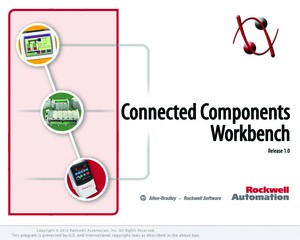 Ideal for machine builders & OEMs who produce stand alone machines, Connected Components Workbench™ software enables you to configure systems and program multiple devices with one application.
As part of the Rockwell Automation Connected Components portfolio, the software saves you time, maximizes your efficiency and lowers your costs.
Unlike other offerings in the market place, the Connected Components portfolio provides you with just the functionality you need, when you need it and at a very competitive price.
The software benefits are:
Easy to Acquire and Install - Free IEC 61131-3 standard software download helps minimize time to start machine development, or you can request a DVD
Easy to Update -Free standard software updates and limited free support minimize time consuming maintenance work
Easy to Configure -Unified device format helps reduce the learning curve and increases your productivity
Easy to Program -Choice of IEC 61131-3 programming languages with user defined function block support (ladder diagram, function block diagram, structured text) optimizes how you choose to control your machine
Easy to Test / Deploy -Robust debug features help reduce machine commissioning and maintenance times
Connected Components Workbench is a software platform supporting the following Connected Components products: Allen-Bradley Micro800 programmable controllers, PowerFlex 4 component-class drives, PanelView Component HMI and motion products. It is based on proven Rockwell Automation and Microsoft Visual Studio technology and offers controller and HMI programming and device configuration.
Download Connected Components Workbench Software
Visit our website via the links on the left or e mail us with your questions - we welcome your inquiries
---