Motion Analyzer: Faster Motion Control Design Time
Featured Product from Allen-Bradley / Rockwell Automation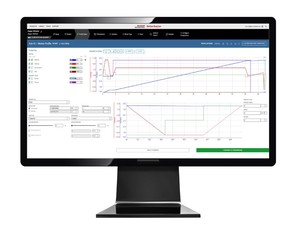 MILWAUKEE — Rockwell Automation has released an updated version of the Allen-Bradley Motion Analyzer software tool. This enhanced software offers an optimized user experience with intuitive navigation and in-workflow product selection. This can help engineers more easily and efficiently develop complete motion control systems for their machines.
Using the Motion Analyzer software, engineers can determine a system's specifications, evaluate multiple products to find the best fit, finalize the design and create a bill of materials. The tool can also help reduce motion-system design time from a multiday process to a few hours.
"Sizing a motion system can be time consuming," said Brett McNalley, product manager, motion solutions, Rockwell Automation. "In the latest release of the Motion Analyzer software, we have simplified workflows to improve user experience. And we have added additional features that make the process of designing a motion system as efficient as possible."
Key improvements include faster axis definition and sizing, redesigned solution search and configure components features, additional application template profile support, and the ability to import from a legacy motion profile with support of more advanced motion segments.
About Rockwell Automation
Rockwell Automation Inc. (NYSE: ROK), the world's largest company dedicated to industrial automation and information, makes its customers more productive and the world more sustainable. Headquartered in Milwaukee, Wis., Rockwell Automation employs approximately 22,000 people serving customers in more than 80 countries.
Media Contact
Tiffany Pfremmer
Rockwell Automation
414.382.4814
tbockhop@ra.rockwell.com
Leanne Hanson
Padilla
612.455.1776
leanne.hanson@padillaco.com