Polyline® – Polycarbonate Enclosures
Product Announcement from Allied Moulded Products, Inc.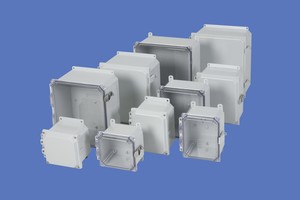 Allied Moulded Products' Polyline® Polycarbonate Enclosures come standard with "industry exclusive" mounting options, including an out-of-the-box mounting flange or adjustable mounting feet to cover various mounting configurations.
Featuring metallic or nonmetallic snap latches and molded-in latch keepers & mounting bosses, a tongue and groove seal design, POLYLINE® is the ultimate in polycarbonate enclosures. A clear polycarbonate cover option is also available for instrumentation applications where critical electronic equipment must be visible and protected from the elements.
Features:
Patented (US Pat. #7,572,975) "Industry exclusive" multi-mounting capability

Out-of-the-box flange design - factory installed
Optional foot mount brackets for multi-directional mounting

Capable of mounting vertically or horizontally

Mounting dimensions molded into the enclosure base
Durable polycarbonate feet/flanges resist cracking during wall mount assembly
Feet and flanges act as an enclosure pad on uneven surfaces without allowing it to be drawn down and binding
Feet and flange pads also allow air gap or barrier between the enclosure and a warm machine chassis or mounting wall to prevent over-heating

Cover/Base design

Flush, aesthetically pleasing and more modern architecture
Clear polycarbonate instrumentation cover where critical electronic equipment must be visible and protected from the elements
Solid/Opaque covers available as an additional option

Molded hinge design with stainless steel tamper resistant hinge pin with no wall penetrations
Tongue and groove, closed cell neoprene seal design for NEMA Type 4X rating
Field-installable Hinged Front Panel (HFP) design
Adjustable corner panel mounts for supporting aluminum hinge front panels within the molded-in corner slots and providing either flush to box top positioning or adjusted 1.5" down into the box
Metal or nonmetal snap latches mount on a molded-in boss and latch to molded-in keepers with no additional wall penetrations
Molded-in back panel bosses with brass inserts and additional center bosses for mounting din rail using #10 sheet metal screws
Five sizes ranging from 6 x 6 x 4 through 14 x 12 x 6
(click here to link to options brochure pdf)
UL® listed and CSA certified
RAL 7035 grey
Compliant with RoHS directive
Visit Allied Moulded Products, Inc. or contact us for product details.
---