UltraPlug™ Hole Plug Assemblies for 4X Enclosures
Product Announcement from Allied Moulded Products, Inc.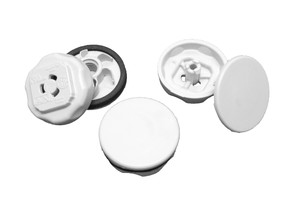 Alllied Moulded Products introduces the UltraPlug Enclosure - Hole Plug Assemblies for time saving installation!
Hole Plug Features:
1) Plug "Fins": Self centering, anti-rotational design for fast & easy
one person plug assembly and no-tools tightening
2) Plug fits wide range of hole sizes without the use of restrictive hole
centering spacers
3) Patent pending design
4) Recognized component for use with UL & CSA listed enclosure products
5) Two material options for a wide range of chemical compatable applications
(polycarbonate with neoprene/EPDM & polyester with silicone gasket)
6) Assembly designed to maintain applicable NEMA/UL/CSA enclosure
ratings
7) Designed for use with wall thicknesses from 16 gauge through 1/4"
8) Designed for use with all metallic and nonmetallic enclosure materials
9) Low profile interior nut and exterior plug saves valuable panel space
10) Capable of sealing unused holes ranging in size from 1/2" to 4 3/4"
Simple Installation
1) Push/Plug
2) Twist-lock/Fins
3) Screw-tight/Nut
Click to download the hole plug assemblies new product bulletin.
Click to download the hold plug installation instruction sheet.
---