Grindex Submersible Pumps
Product Announcement from Allight Primax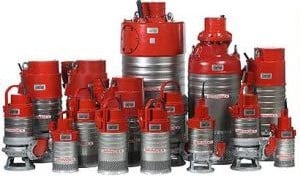 Grindex pumps need no introduction in the construction, mining and related industries. For over 40 years, the company has pioneered developments in submersible pumps.
The various ranges available today, with their unique and patented features that make Grindex so reliable, durable and excellent performers, demonstrate the company's ability to innovate.
There are Grindex pumps available in all sizes to meet all your submersible pump requirements.
Grindex Drainage pumps are designed for:
Pumping water which may contain abrasive particles - up to the size of the strainer holes.
Pumping ground water.
Pumping raw water.
Grindex Sludge pumps are designed for:
Water with high content of solids up to the size of the pump inlet opening diameter.
Water which contain abrasive particles.
Different types of mud and sludge.
Light slurry.
Grindex also have a range of Tuff Pumps which are ideal for all kinds of professional drainage pumping where there are high demands on durability and functionality. The light weight of these pumps makes them ideal for portable purposes. They are equipped with stable and use-to-grip carrying handles.
These features, along with quality under tough operating conditions, put Grindex pumps in a class all of their own. The fact that they are easy to service and have a very long life makes them the indisputable best alternative, whatever Grindex Pump you choose.
---