Mine Series of Mobile Lighting Towers
Product Announcement from Allight Primax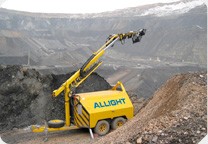 Allight has designed the Mine Spec range of Mobile Lighting Towers to cater for lighting projects that require strength, reliability, and easy maintenance.
Allight's Mine Spec Series is unique in its standard features, and versatile in its available options. In mechanical or hydraulic options, with three, four, five or six lights, the Allight Mine Spec Series Mobile Lighting Towers are available in skid or trailer mounted configurations, with 9m or 10m masts. Delivering high end operational features and highwall overhang capability on hydraulic models, Mine Spec Series towers are designed to direct the light wherever required with effortless one-person operation via integrated control panel. Hydraulic features include double acting rams, safety lock valves on critical functions and safety micro switches.
Designed and manufactured in Australia, the Mine Spec Series are durable heavy-duty towers that cope with the toughest applications and the harshest of environments; withstanding the challenges of terrain, climate and distance posed by heavy duty construction and roadworks, mining and exploration projects in Australia and across the globe.
Visit Allight Primax to learn more about the Mine Spec range.
---