Cold Storage Doors
Product Announcement from Allmark Door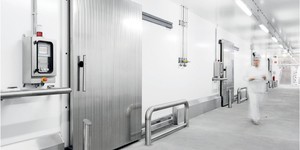 Climate control is required for sensitive manufacturing, food storage and research processes. These areas require sanitation and doors that can withstand harsh cleaning products and the highest demands in regard to hygiene. Allmark Door's Cold Storage Doors assist in preventing cross-contamination by using automation with a non-contact method of operation further enhancing hygiene by eliminating touch points in your process.
Our doors offer the latest technological advancements in water/air tightness, cleanliness, reliability and longevity. You can rest assured knowing your products are safe, secure, and protected. With a wide variety of models available, our Cold Storage Doors offer the kind of flexibility and functionality needed for any cooler or freezer installation. They are available in a variety of opening sizes and style options.
Allmark Door's Cold Storage Doors are made of high-quality materials, are durable, reliable, long-lasting and economical to maintain. We can recommend the right Cold Storage Doors for your setting, helping you to continue production worry free.
---