Overhead Sectional Doors
Product Announcement from Allmark Door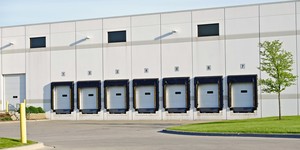 Allmark Door offers a line of Overhead Sectional Doors that will provide the durability and reliability that your company wants and needs. Our Overhead Sectional Doors are insulated, foamed-in-place, and offer the highest quality product. They are of high strength, reliable, and are all energy-efficient, helping to keep your costs down. The Overhead Sectional Doors feature R-values as high 15.67, and include a selection of windows and high-cycle packages, so that they provide a top-of-the-line performance on a daily basis.
Each Overhead Sectional Door is provided as one complete unit, which includes sections, brackets, counterbalance mechanisms, and hardware options to suit the opening and headroom available. Our Overhead Sectional Doors are also:
Durable: Offering a 2" thick sandwich construction of steel skins, filled with polyurethane foam. Each of the sections is guaranteed against delamination for a 10-year period.
Rust Proof: All panels are pre-painted inside and out to inhibit rust. They feature hot-dipped, galvanized steel that has been painted with primer and finished with a tough, oven-baked polyester top coat. They also come with a 10-year warranty against rust-through.
Green Construction: Being energy-efficient, the Overhead Sectional Doors feature polyurethane foam that is CFC and HCFC free, and it also utilizes recycled steel and packaging materials.
---