ALPHA® Stencil Fabrication Services
Service Detail from MacDermid Alpha Electronics Solutions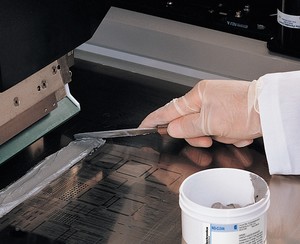 ALPHA® Stencil products are based on unique blends of advanced technology, the experience gained from having made over half a million solder paste stencils, the specialist knowledge that could only be accumulated by a company privileged to produce both solder pastes and printing stencils… all combined with a genuine will to meet your most stringent delivery expectations.
Knowledge made possible by designing solder stencils and pastes. Alpha® has an intimate knowledge of the stencil printing process, based on its global experience as the leading producer of stencils as well as advanced solder paste products worldwide. By having a command of the majority of the variables in stencil printing we are able to predict accurately the transfer efficiency of paste/stencil aperture combinations and apply design rules to the stencil in order to optimize paste deposit repeatability - so essential when dealing with fine features and micro-scale devices.
Experience gained from making over half a million stencils, as a Company we have a wealth of design and manufacture expertise. Our CAD technicians combine Alpha® design and modification rules, honed by customer feedback and experimental development, with your own specific design requirements and preferences to produce stencils that are "right first time". With over 250 man-years of CAD experience and 400 man-years of manufacturing experience globally, Alpha® has the power to "know what works" and the global, multi-site manufacturing and quality systems to deliver it.
Service... fast and dependable. If you need it tomorrow, order it today and we'll do everything humanly possible to meet your needs… and we'll keep you informed all the way down the line. We are conversant with all popular file formats; Gerber, Gerber-X, Barco DPF, ODB++, DXF, HPGL, to ensure that your requirements are readily understood and your stencils are reliably supplied in a timely manner.