High-Performance Wind Power Cable
Featured Product from Alpha Wire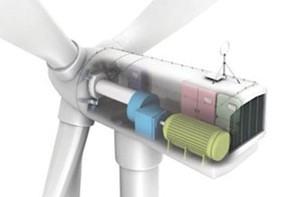 Alpha Wire today introduced a new product offering for the rapidly expanding Wind Power market. The Company has created a portfolio of high-performance cable for applications in the Wind Power market, including power distribution, control, and monitoring within the wind turbine. Alpha Wire's industry-leading Wind Power offering gives designers a single source for the widest range of cabling for wind turbine nacelles. The majority of the cables in the portfolio meet UL Wind Turbine Tray Cable (WTTC) requirements.
"Wind farm operators continue to seek ways to minimize costly truck rolls for maintenance and repair," said Brian Ribeiro, Senior Marketing Communications Manager at Alpha Wire. "With the introduction of our new Wind Power offering, we provide design engineers with a tailored solution comprised of the industry's most rugged cable. By creating market-specific portfolios, Alpha Wire drives quality, performance, and speed-to-market through the entire chain, from procurement through deployment."
Alpha Wire's portfolio for wind power includes products from these proven cable families:
Xtra-Guard® 4 performance cable is designed to withstand the temperature extremes of the wind turbine environment. Its durable construction offers three times the low-temperature flexibility of ordinary PVC and provides good resistance to oils, solvents, chemicals, and fuels.
Xtra-Guard Flex torsion cable withstands continuous flexing, including multiaxis torsional movements, making it an excellent choice for wind vanes and anemometers that experience random movement, and for actuators, automation networks, control circuits, sensors, pitch/yaw controls, and power supply circuits.
Xtra-Guard Flex Motor Supply Cable achieves excellent flexibility in a tough abrasion- and oil-resistant design well suited for the tight spaces in wind turbines for connecting AC drives, servo drives, and variable-frequency drives.
Series M Flexible Control cables are used for stationary/cable tray and for light to moderate flexing applications. Cables come in 18 to 8 AWG with up to 65 conductors.
Series V VFD cable is designed specifically for the needs of variable-frequency drives, combating the continuous dielectric stresses, with no degradation under heavy electrical load or voltage irregularities such as harmonics, corona discharges, and power distortion.
Instrumentation cables are available in a wide range of configurations for monitoring and telemetry needs.
For additional information, contact Alpha Wire at 800-52-ALPHA (522-5742) or visit the Company's website at www.alphawire.com.