Photovoltaic Wire
Featured Product from Alpha Wire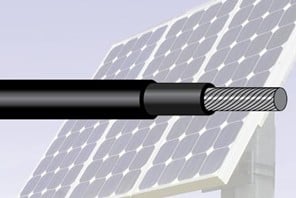 Our photovoltaic wire gives you flexible choices to meet UL 4703 PV wire and UL 4703 PV wire/TÜV 2 PFG 1169 wire requirements.
Features:
Sunlight, ozone, and UV resistant
Moisture resistant
RoHS compliant
REACH compliant
-40°C to +90°C temperature range
From residential rooftops to solar farms harvesting energy, Alpha Wire presents a product portfolio to help engineers and installers create reliable, durable solar systems. Our solar cables and photovoltaic wire are designed for the harsh environments of solar energy applications-the hot and cold of climate extremes, ozone and UV radiation, moisture, oil, and direct burial. Our specially formulated PVC jackets provide years of reliable service by withstanding the potential environments without failing or degrading.
Can't find what you're looking for? Design the cable to your specification. It's easy, just visit www.alphawire.com!