Photovoltaic Wire and Solar Cable
Featured Product from Alpha Wire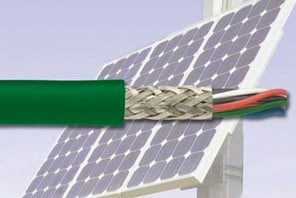 Alpha Wire's new solar cables and photovoltaic wire are designed for the harsh environments of solar energy applications-the hot and cold of climate extremes, ozone and UV radiation, moisture, oil, and direct burial. The cables use a specially formulated PVC jacket to provide years of reliable service by withstanding the potential environments without failing or degrading.
Available in a wire range from 14 AWG to 2 AWG, the photovoltaic wires come in two versions to meet either UL 4703 PV wire/TÜV 2 PFG 1169 requirements or UL 4703 PV wire requirements. UL/TÜV photovoltaic wires are made with low-smoke, zero-halogen (LSZH) materials which do not emit toxic gases when burned. The UL PV wire products use a cross-linked polyethylene insulation and PVC jacket.
Solar cables, in sizes from 18 AWG to 12 AWG and conductor counts from 3 to 9, are available shielded or unshielded. The TC-ER and MTW-rated cables feature a tough and abrasion-resistant jacket to provide robust performance for years.
Both the PV wire and solar cable are designed specifically for solar environments-they are sunlight and oil resistant and withstand temperatures as low as -40°C and high as +90°C. In addition, the solar cables meet requirements for direct burial without conduit.