Rugged Wire Sleeving for Hazardous Applications
Featured Product from Alpha Wire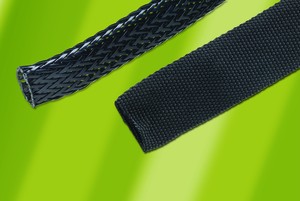 Alpha Wire is proud to announce a line extension of its popular FIT Sleeving product family. The new offering is comprised of rugged sleeving products that are designed for wire and cable applications that demand superior abrasion resistance, high operating temperatures, and/or resistance to oils, solvents, and chemicals. Available in an assortment of wrappable, expandable, and non-expandable configurations, the new FIT rugged sleeving is ideal for military, industrial, and other potentially hazardous applications.
The new FIT rugged sleeving products are available in the following configurations:
• Flexible, Semirigid Wrappable Sleeving: 10-mil PET braid, more flexible than spiral wrap or split convoluted tubing, available with an installation tool for fast and easy wrap-around installation. Flame resistant and flame retardant constructions available.
• Advanced Performance Expandable Sleeving: 20-mil nylon polyamide monofilament for extreme abrasion resistance without losing flexibility or durability. Expandable to 150% and resists fuels, solvents, salt water, chemicals, and UV rays.
• Advanced Chemical Resistance Expandable Sleeving: 8-mil polyphenylene sulfide (PPS) monofilaments for advanced acid, base, solvent, and fuel resistance. Ultra-lightweight with high abrasion resistance, expandable to 150%, and flame resistant.
• Maximum Performance Expandable Sleeving: Flat 20-mil nylon filaments for superior coverage and abrasion resistance. Resists fuels, solvents, chemicals, salt water, and UV rays; smooth inner wall prevents internal abrasion damage.
• Extreme Performance Sleeving: 16-mil PTFE filaments resists virtually all chemicals and UV rays. Features a wide temperature range of -70°C to +280°C, thermally stable with low outgassing, and suitable for plenum use.
• Abrasion-Resistant Non-Expandable Nylon Sleeving: 45-mil tightly woven thick nylon for best-in-class abrasion resistance. Deflects high-pressure hose ruptures and resists fuels, chemicals, UV rays, rot, and vermin.