Alpine Bearing Makes the World Spin
Featured Product from Alpine Bearing, Inc.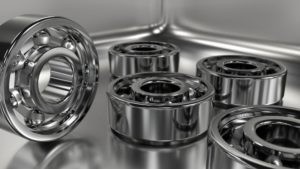 Alpine Bearing and its Massive Inventory Make the World Spin
We've discussed preventive maintenance and how taking the right steps ahead of time can save you time and money. While that's true, sometimes, even in companies with the best maintenance programs, a piece of equipment breaks. When that happens, and your line stops, you need a new part ASAP.
For some parts, especially those that need frequent replacement, it makes sense to keep a stock of spares. For others, the price, size, or infrequency of replacement make keeping extras on hand impractical. And sometimes, you just run out.
This was the case for a local milling shop. They had an important customer with a short deadline. Filling the order on time was essential to keeping the customer happy and paving the way for future business. About halfway through the milling process, the mill shut down. The machinist examined it and discovered a spent bearing.
With no spares in the shop and the deadline looming, the shop supervisor was nervous. He knew they couldn't afford a total shutdown. Fortunately, the mill is an Alpine Bearing customer. He called us and we sent out the part—that day. It arrived at the start of business the next morning. Sure, they lost a few hours of production time, but thanks to Alpine's massive inventory and speedy service, the mill lost hours instead of days or weeks. Because Alpine stocks the largest inventory in New England, the production hours lost were closer to 4 than 40.
How big is our inventory? We have over a million types of bearings in stock and can ship most items on the same day. We also have a clean room which allows us to customize bearings for you.
Do you need a bearing in a hurry? Call us. We make the world (and your company) spin.
Download Alpine Bearing's new spindle bearing catalog, featuring thousands of spindle bearings.
We Make The World Spin
Premium Quality Bearings Produced by the Industry's Leading Manufacturers.
Since 1957, Alpine Bearing has sought the industry's leading manufacturers to ensure the delivery of high quality bearings to OEMs, distributors, rebuilders, and individuals. We specialize in miniature and instrument, Thin section, spindle, Thinex and torque tube, stainless, chrome, radial, angular contact, and ball screw support bearings of all precisions. With thousands of bearings in stock, same day shipping is available on most products.
Alpine Bearing has a Class 10,000 clean room and as a certified re-lubrication facility for New Hampshire Ball Bearing (NHBB) & Nippon Miniature Bearing (NMB), we can customize our bearings to suit your needs. Bearings can also be re-packaged for optimum protection.