Bearings and Bushings: The Inside Story
Featured Product from Alpine Bearing, Inc.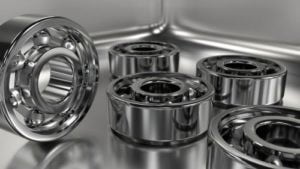 Bearings and Bushings: The Inside Story
What is a bearing?
Bearings are made up of components that allow two surfaces to roll over each other while also reducing friction. Balls or rollers act as rolling elements between races of the bearing assembly. Because of their round shape, bearings support radial (forces from above and below), axial (lateral), combined (radial and axial), and moment (tilting) forces.
What is a bushing?
A bushing or plain bearing is a cylindrical part used to reduce friction between components. Unlike a bearing, a bushing, often referred to as a sleeve, is a single piece. Though bushings and bearings are in similar categories, they're not interchangeable and they don't move in the same way. Bushings slide while bearings roll.
Bushings are ideal for distributing the weight of heavy or high load-bearing tolerances. They act as shock absorbers and decrease noise and wear. Many are self-lubricating, saving labor and time. Reservoirs on the surface hold grease or oil and spread it automatically with use. In the food and textile industries, factories use non-lubricating or dry bushings.
Do you need a bearing or a bushing for your machine?
A bushing is a bearing, but a bearing's not necessarily a bushing. How do you know which component will suit your needs? What type of load are you supporting? Is it a heavy piece of mining equipment or a high-speed lathe? If you need to support a light load at a high rate of speed, bearings will probably work best. For a slow-moving, heavy load, try bushings. To choose the appropriate part, discern the load, speed, and dimensions of the application.
Part of what we do every day is talk to our customers to help them choose the right bearings for their equipment.
If you're unsure what bushing, bearing, or specification is right for your needs, ask an expert. We happen to know a few.
Alpine Bearing Earns ISO 9001 Proving Quality and Service Matter
High standards in product quality, customer service, and innovation are essential in the aerospace world. Our huge warehouse full of bearings means you'll get same-day shipping on most orders.

Click Here to Download Our Product Catalog Today
We Make The World Spin
Premium Quality Bearings Produced by the Industry's Leading Manufacturers.
Since 1957, Alpine Bearing has sought the industry's leading manufacturers to ensure the delivery of high quality bearings to OEMs, distributors, rebuilders, and individuals. We specialize in miniature and instrument, Thin section, spindle, Thinex and torque tube, stainless, chrome, radial, angular contact, and ball screw support bearings of all precisions. With thousands of bearings in stock, same day shipping is available on most products.
Alpine Bearing has a Class 10,000 clean room and as a certified re-lubrication facility for New Hampshire Ball Bearing (NHBB) & Nippon Miniature Bearing (NMB), we can customize our bearings to suit your needs. Bearings can also be re-packaged for optimum protection.
Offering bearing re-lubrication services
Alpine Bearing's re-lubrication center is a class 10,000 clean room with Class 100 laminar bench work stations certified to Federal Standard 209E. We are a certified re-lubrication facility for New Hampshire Ball Bearing (NHBB) & Nippon Miniature Bearing (NMB). We can customize bearings to suit your needs. We also re-package bearings for optimum protection.