How to Search for the Bearings You Need
Featured Product from Alpine Bearing, Inc.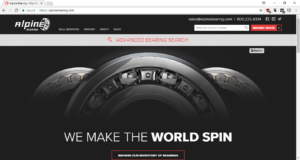 How to Use Our Site to Search for the Bearings You Need
At Alpine Bearing, you can conduct your bearing search by product number or bearing type. Here's how.
Search by product number
Go to the home page, https://alpinebearing.com/
Type the product number into the search bar on the top right of the page.
Hit enter.
Hit the up or down arrow to indicate how many bearings you need.
Hit the ADD TO QUOTE button.
Hit the REQUEST A QUOTE button.
Search by bearing type
Go to the home page, https://alpinebearing.com/
Click on the ADVANCED BEARING SEARCH bar.
Click on the type of bearing you're looking for and use the dropdown menus to indicate the appropriate dimension and bore.
Or…would you rather talk to one of our seasoned sales engineers? Each one is familiar with our large, wide-ranging stock. We can ensure that you get the bearings you need at the best price available. We can also ship same day so your machines and your business keep rolling.
Download Alpine Bearing's new spindle bearing catalog, featuring thousands of spindle bearings.
We Make The World Spin
Premium Quality Bearings Produced by the Industry's Leading Manufacturers.
Since 1957, Alpine Bearing has sought the industry's leading manufacturers to ensure the delivery of high quality bearings to OEMs, distributors, rebuilders, and individuals. We specialize in miniature and instrument, Thin section, spindle, Thinex and torque tube, stainless, chrome, radial, angular contact, and ball screw support bearings of all precisions. With thousands of bearings in stock, same day shipping is available on most products.
Alpine Bearing has a Class 10,000 clean room and as a certified re-lubrication facility for New Hampshire Ball Bearing (NHBB) & Nippon Miniature Bearing (NMB), we can customize our bearings to suit your needs. Bearings can also be re-packaged for optimum protection.