Machine Tool Spindle Bearings
Featured Product from Alpine Bearing, Inc.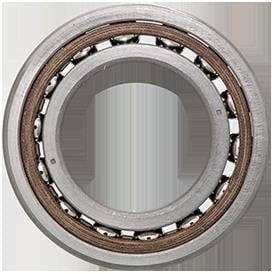 Machine Tool Spindle Bearings
Machine tool bearings are precision angular contact bearings, non-separable with outer rings relieved and available with 15° or 25° contact angles.
For critical applications these bearings are stocked as universally ground duplex pairs with standard preloads and as single row bearings. A different design for separable, single row bearing series with inner ring relieved and 15º contact angle is also available. Duplex pairs can be mounted back-to-back, face-to-face or tandem depending on the loading expected. Due to high speeds, these bearings usually require phenolic retainers, which have either a stepped or cylindrical pocket design.
These bearings are employed in a variety of machine tool equipment for grinding, turning, milling, routing, drilling and threading applications. We offer same-day shipping on most items.
Alpine Bearing Earns ISO 9001 Proving Quality and Service Matter
High standards in product quality, customer service, and innovation are essential in the aerospace world. Our huge warehouse full of bearings means you'll get same-day shipping on most orders.

Click Here to Download Our Product Catalog Today
We Make The World Spin
Premium Quality Bearings Produced by the Industry's Leading Manufacturers.
Since 1957, Alpine Bearing has sought the industry's leading manufacturers to ensure the delivery of high quality bearings to OEMs, distributors, rebuilders, and individuals. We specialize in miniature and instrument, Thin section, spindle, Thinex and torque tube, stainless, chrome, radial, angular contact, and ball screw support bearings of all precisions. With thousands of bearings in stock, same day shipping is available on most products.
Alpine Bearing has a Class 10,000 clean room and as a certified re-lubrication facility for New Hampshire Ball Bearing (NHBB) & Nippon Miniature Bearing (NMB), we can customize our bearings to suit your needs. Bearings can also be re-packaged for optimum protection.
Offering bearing re-lubrication services
Alpine Bearing's re-lubrication center is a class 10,000 clean room with Class 100 laminar bench work stations certified to Federal Standard 209E. We are a certified re-lubrication facility for New Hampshire Ball Bearing (NHBB) & Nippon Miniature Bearing (NMB). We can customize bearings to suit your needs. We also re-package bearings for optimum protection.