Radial Ball Bearings
Featured Product from Alpine Bearing, Inc.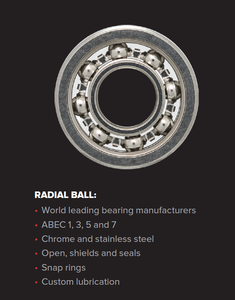 Thinex and Torque Tube bearings are available in radial and angular contact designs and distribute the load over a greater number of small diameter balls for lower starting and running torque. These are used where instrument ball bearings require low friction and high accuracy. All Thinex and Torque Tube bearings can be supplied as duplex preloaded matched sets. Thinex series bearings are for applications where space is at a premium and shaft location is primary compared to load support. Bearings up to 6" OD are available. Applications include aircraft accessories, missile guidance equipment, computers, business machines, robotics and medical devices.
RADIAL BALL:
• World leading bearing manufacturers
• ABEC 1, 3, 5 and 7
• Chrome and stainless steel
• Open, shields and seals
• Snap rings
• Custom lubricationPremium Quality Bearings Produced by the Industry's Leading Manufacturers.
Since 1957, Alpine Bearing has sought the industry's leading manufactures to ensure the delivery of high quality bearings to OEMs, distributors, rebuilders and individuals. We specialize in miniature and instrument, spindle, Thinex and torque tube, stainless, chrome, radial,angular contact and ball screw support bearings of all precisions. With thousands of bearings in stock, same day shipping is available on most products.
Alpine Bearing has a Class 10,000 clean room and as a certified re-lubrication facility for New Hampshire Ball Bearing (NHBB) & Nippon Miniature Bearing (NMB), we can customize our bearing to suit your needs. Bearings can also be re-packaged for optimum protection. We offer same-day shipping on most items.