Heavy Duty Foot Switches
Featured Product from Altech Corp.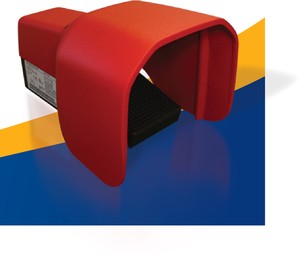 Light medium size, one pedal foot switch
The FL series foot switches are appropriate for heavy duty applications in hazardous and demanding environments. The foot switch with the Polyamide 6.6 housing shows the same sturdy body as the FS series, but with the advantage of resistance against water, oil, and certain acids and chemicals, which enables a longer life expectancy. The foot guard consists of die cast aluminum, to sustain all safety requirements.
The FL series offers considerable flexibility with the combination of slow make-break and snap action switch inserts, with the contact types momentary, maintained and two stage momentary and the choice of different potentiometer values. Human safety and machine protection can be provided by adding
of Anti-Trip lever and foot guard. These items prevent the foot switch from accidentally actuating the machine function. Different strain reliefs, cables, connectors and custom colors are also available.
The main applications of this non-corrosive foot switch are "wet" industrial environments, drilling processes, and in the food industry, where the environment has to be cleaned regularly with cleaning detergent.
Housing: Polyamide 6.6 body and pedal
Guard: Die cast aluminum

Colors: Gray body, red guard and black pedal
Anti-Trip: Die cast aluminum pedal and lever in gray (available on some models)

Protection Level: IP 65
Switch Insert: Snap action or slow make-break Silver alloy contact material

Electrical Rating: 10A/500V AC (If used with appropriate cable, see cable chart on page 29 of our catalog)
Contact Types: Momentary, maintained, or two stage momentary
Circuit: SPDT-DB; DPDT-DB; 10k Ohm, 2.0W

Potentiometer with SPDT-SB microswitch
Cable Entry: Threaded hole (M20)
Temperature Range: -30°C up to +80°C (-22°F up to +176°F)