IP44 or IP67 Industrial Plugs and Sockets
Featured Product from Altech Corp.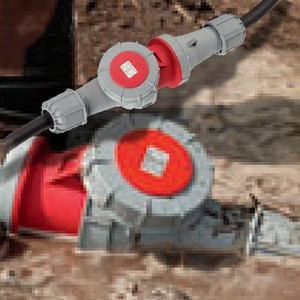 IP44 or IP67 Industrial Plugs and Sockets
Altech's carries IP44 or IP67 industrial plugs and sockets. They combine the elements of good design, high quality, safety, ease of installation and competitive cost. The pin and sleeve devices are manufactured to EN 60309 Part 1 and 2: IEC 60309.
Their rugged construction in polyamide 6 material provides good anti-tracking properties and high resistance to aggressive industrial use.
In accordance with the Standard's requirements, these devices are color coded to provide positive voltage and frequency matching and external key-ways ensure correct alignment of contact pins. The position of the ground pin relative to the socket's key-way are designated as a clock hour position.
The ground terminal also has a larger diameter than the contacts, making it impossible to install it in an IEC 60309 device with a different voltage rating.
The shrouded housing made of high impact nylon material protects the contacts from physical abuse and safeguards against touching live parts when partially engaged.
All terminals are clearly marked in both IEC 60309 and North American Standards.
The ABL-17 features include:
High impact and abrasion resistance
Resistant to oil, petrol, most acids and alkalines
Operating Temperature range -13°F to 176°F (-25°C to 80°C)
Excellent anti-tracking
Grooved body improves hand grip
Insulated cable clamp device
Maximum wiring space
Terminals clearly marked
All screws are accessible from one side