SLC Solenoid Locking Keyed Interlock Switches
Featured Product from Altech Corp.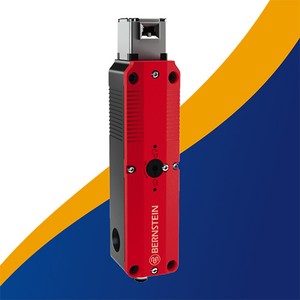 SLC Solenoid Locking Keyed Interlock Switch
Features:
Lightweight yet robust: Hybrid of metal & plastic
Flexible contact assembly
Integrated manual release
Symmetrical design
Five actuating positions
Rotatable head (4×90°)
Fail-safe guard locking system
Optional emergency exit
Optional emergency release
M12 connector as an option
With Many Activation Key Options
Durable & Cost Effective
Metal switch head provides durability while the plastic switch body reduces cost

Manual release (standard)
Possibility of manually unlocking the switch if power is lost

Emergency release (optional)
As a ready-to-use switch or as an accessory, mounted on the front of the SLC, enables immediate opening from outside the dangerous area.
Guard locking principles
Spring-To-Lock
Guard locked by spring force. To unlock, the solenoid needs to be energized.
Power-To-Lock
Guard locked by energized solenoid. To unlock, the energy needs to be switched off.
Emergency exit Optionally mounted on the rear of the SLC, the emergency exit enables immediate opening from within the dangerous area.

Optional Slide Bolt
Ergonomic handle to open the door
Prevents damage from misaligned door
Avoids using the switch head as an end stop
Guarantees optimum actuator insertion