Safety Product Video from Altech
Featured Product from Altech Corp.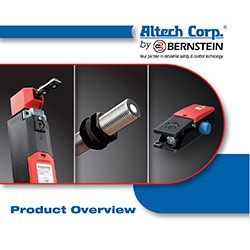 Altech sells Bernstein products in North America; they are renowned for the development of safety switches, sensors and enclosures. The focus of attention is protecting the operator through machine and process safety. This means a comprehensive product program which fully meets relevant safety requirements across a wide range of specific applications.
Safety and Rope Pull Switches
Types:
Keyed Safety Switches
Solenoid Locking Safety Switches
Hinged Safety Switches
Non-Contact Safety Switches
Safety Rope Pull Switches
Standard Rope Pull Switches
Double Sided Rope Pull Switches
Safety Relays
Limit Switches and Foot Switches
Types:
Plastic Body Limit Switche
Medal Body Limit Switches
Special Switches & Sensors
Foot Switches Without Covers
Foot Switches With Covers
Special Foot Switches